---
Our Profile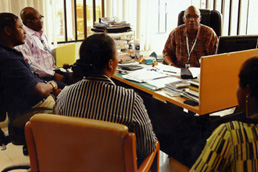 Tosdere is a group of Human Resource and Manning/ Crewing Agency with a bent in Human Resource Management who offer top notch consulting services with diverse staff of seasoned Human Resource Personnel and wide range of expertise in latest industry practices. Tosdere is equipped to deliver top notch HR services.
Our mission is 'To lead in attracting, developing and retaining superior Human Capital that create a dramatic business advantage for our clients.
Consequently, Tosdere partners with clients in solution-driven relationships that seek an in-depth understanding of the clients with a view of providing appropriate answers to their challenges.
Tosdere provides management support services particularly in implementing Human Resource strategy and systems in line with the International Maritime Organization (IMO) standards. With a wide range of Human Resource solutions, Tosdere has been able to meet the unique needs of its diverse clients
Human Capital Consulting
Placement & Selection
People Development
Strategy & Systems
Planning/ Implementation
Outsourcing
Recruitment
Work force planning
Employee retention
Administration
People assessment
Training
Performance measures & mgt
People Outsourcing
Career assessment
Services
Our Clients partner with us for
Creative Crewing Solutions
Reliable and Efficient delivery of service
Collaborative Partnership with our sailors and clients
Results; Measured by the success of our team
Our focus on Success and Clients' Bottom line
Project Management and Results
With each line of our services, we provide our clients with an informed perspective on the issue they face thus enabling them to maximize their Human Capital